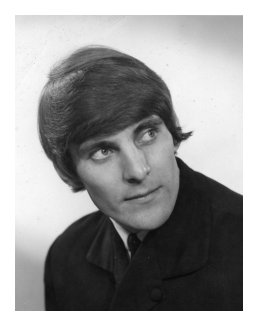 Now Playing: If It Was Meant To Be (Demo)
Biography

Most known for recording a version of "Hush" that inspired Deep Purple's hit cover of the same song, Kris Ife was active on the British pop scene in various guises from the mid-'60s to the mid-'70s, though he had barely a taste of commercial success. The guitarist and singer/songwriter recorded in the mid-'60s as part of the Quiet Five who released half a dozen singles that combined different parts of Merseybeat, pop/rock, folk, and blue-eyed soul. They managed to sneak inside the Top 50 in 1965 with the Ife-composed "When the Morning Sun Dries the Dew," repeating the feat the following year with a cover of Simon & Garfunkel's "Homeward Bound" though the original version was the one that became a U.K. Top Ten single.

On Weds. 28th. December 1966, the Quiet Five played at Windsor Castle, for a party to mark Prince Charles' 18th. Birthday earlier in Nov.
Subsequently, they played extensively on the "Society Circuit", including Queen Charlotte's Ball, The Royal Hunt Ball & the Venice Film Festival (for King Constantine) & at Count Volpi's piazza on the Grand Canal.

Ife left the Quiet Five 1967 to go solo, cutting several obscure 45s, among them a forceful soul-rock cover of Joe South's "Hush." It later emerged that Deep Purple became aware of the song after some members heard the single played at a Manchester discotheque, and Deep Purple had a U.S. Top Five smash in 1968 after giving the number a more hard rock-slanted treatment.

In the late '60s, Ife was asked to sing a track for British producer Mark Wirtz. It became a single for Ife on Parlophone- "Imagination". Ife at the time, was writing songs with Vince Edwards & Michael Derrick under the collective pseudonym Miki Anthony. They wrote "Haven't We Had a Good Time" which became Ife's 2nd. single produced by Wirtz. Ife put together a session band to record material for Wirtz that eventually developed into the Matchmakers. Ife and Wirtz co-wrote most of the material for an album recorded by Ife under the name of Judd, though Ife has recalled that this was a combination of finished tracks and demos. Many of Judd recordings had a swamp pop feel, albeit with a dash of British blue-eyed soul-pop, but these unfortunately didn't provide the elusive hit and make a commercial impact.

Ife also recorded a couple of obscure, more heavily orchestrated, early-'70s Righteous Brothers style singles with J.Vincent Edwards, as the duo Jackson & Jones. Both singles were co-written by them and produced by Ife.

He also did an unreleased concept album that aimed to teach American history through popular music, and then entered the publishing side of the music industry in the mid-'70s.

Much of Ife's output was assembled for the compilation "Hush - Definitive Collection 1967-1973" on RPM Records, which includes late-'60s solo singles Hush, the Judd LP, an unreleased Judd track, the Jackson & Jones singles and an unreleased track from his American history concept album.

His Quiet Five recordings are covered on the "When the Morning Sun Dries the Dew" CD also on RPM Records, which combines everything from that group's singles with some unreleased material.


Click images for details on these CDs