Click here for Album Reviews
Radio Interview
Click here to listen to the Interview on Radio Scilly
News March 2017
Hello All! It's been a while since I last posted an update but things have been pretty hectic as I've been working on two albums simultaneously! Last month work was finally completed on the recording of the Miss Modus record. I'm awaiting some promo/album shots from Miss M and then I'll get to work on arranging the design/layout for the album. It looks like it'll be a vinyl and digital release with a view to putting out a CD version soon after. Great fun was had by all and I can't wait to get it out there!

The next Groovy Uncle/Suzi Chunk album is coming along very nicely too and we are back in the studio early April to lay down some lead and backing vocals. We are about 3/4 of the way through with this album and I'm really pleased with it thus far. The songs and subject matter are really varied and a number of the themes are inspired by childhood memories and anecdotes from my parents. I'm not sure exactly when we will release it but this too will see a vinyl release.

Albums 6 and 7 are on the way!!
News June 2016
Just got back from recording and mixing the forthcoming Suzi Chunk single "Got Up And Gone"/"Find The Morning" which we'll be releasing on our own label, Trouserphonic Records, later in the year. It'll be a limited release on ORANGE VINYL and the first 100 copies will come with a specially designed insert and signed postcard. All copies will contain a digital download code.

We used our studio time wisely and managed to record 5 other tracks for the next album which will be released some time next year.
News January 2016
Happy New Year! "Life's A Gift" had a good reception on its release towards the end of 2015, receiving fine reviews from the likes of "The Sound Of Confusion" and "Shindig!" magazine among others. "Girl From The Neck Down?Remastered" is now out on release and available from this here website. At time of writing there are no immediate plans other than to plough on with more songwriting and get to work on the next block of recordings. I have a lot of ideas for the next project and I'll need a lot of time to work it all out and get everyone together. It's a challenge I'm very much looking forward to!
News August 2015
Well, the new (5th) album , "Life's A Gift" is now in the bag. Mixed, mastered and ready to go! 12 new songs (plus a bonus, alternative version track) from Groovy Uncle and Suzi Chunk will be available to buy from this website sometime in late September/early October. This time it the physical format will be CD only and downloadable from iTunes and Amazon. Watch this space! Recording the album has, once again been a real pleasure from start to finish and a lot of the usual suspects have been involved. However, joining us for the first time were Bob Goodwin on piano, Katie May Gillbert on backing vocals and Pete Mathison on banjo, slide guitar and spoons! Pete is former guitarist for Ray Davies and did a great job, as did everyone. Thanks also to Darryl Ryan Hartley for updating the cartoon and designing the album sleeve.

I'm very much looking forward to finishing off the Miss Modus album for release next year and I've already started working on some brand new tunes for another project! Thanks to you all for your continued support and I hope you'll enjoy our new album. See you soon!
News June 2015
It's been a while since I last updated the news page and this has simply been due to the fact we've been so busy. I've been writing for and recording with Miss Modus and we have almost completed an album. Due to a few complications we have put the project on hold until later in the year and we only need to record a couple more tracks. It really is sounding great and I think it's quite an interesting album, different to anything I've done before.

In March Suzi and I played a few low key live gigs in Cardiff where Pete Mathison joined us to play some lead guitar. It really was great fun and the audiences were really welcoming. We also did a couple of live performances and interviews on Radio Glamorgan and Radio Cardiff which were also very enjoyable.

Now that the Miss Modus album has been put on hold we've already started work on the new Unc'n'Chunk record- working title "Cut Out And Keep"-and as well as completing a couple of acoustic songs we've also laid down the backing tracks to 8 other tunes so far. Suzi and I are back in Ranscombe studios over the weekend of 13th/14th June and will be working on vocals together. Really looking forward to it all! Copies of all our albums are available on CD and/or VINYL and are can be purchased from this website's shop page or downloaded from iTunes or Amazon.
News January 2015
A big thank you to everyone who voted "Barefoot In The Car Park" and/or "I Know Where The Sun Shines" for the Coolest Song In The World 2014 on the Underground Garage. "Barefoot..." made it to Number 9 and we are extremely happy with that result. In the DJ picks of the year we made Number 3 in Stevie Van Zandts list, Kid Leo placed us at Number 7 as did Ko Melina. Both songs appeared in Drew Cary's Top Ten and Chris Carter placed "I Know Where The Sun Shines" at Number 5.

Another accolade came from "Shindig!" magazine when we received Single Of The Year in the December issue's Writers Awards. We feel truly honoured by all this and it has been a great end to a great year.

Work has already begun on the next musical project and we'll be in and out of the studio on a regular basis over the coming months. I'm also planning a few low key acoustic gigs with Suzi towards the end of March in Cardiff.



Another busy year ahead!
---
October 2014
At time of writing we are about to release the new album "Persuaded"? scheduled for Monday 6th October! It will be available from this website's shop page on CD, Vinyl and Special Edition Vinyl (100 copies only). The vinyl comes with a free download code. The Special Edition has a numbered lyric sheet, a numbered envelope (containing a hand printed redacted section of the lyrics of "Persuaded", wristband and postcard), and a promotional poster. All presented in a brown paper bag with special, individually hand printed "You've Been Persuaded" design. AVAILABLE FROM THE SHOP PAGE NOW!!

Suzi's interview on Sirius XM's Mighty Manfred Show was aired last week and I shall upload it to the website soon. Following on from their "In The Studio With..." feature, "Shindig!" magazine gave the new album a glowing 4?star review in the latest issue, describing it as "a remarkable album". Pennyblack Music gave us a rave review for the single "Barefoot In The Car Park" and will be reviewing the album soon.

A big thank you to everyone involved in the making of the album. Let's do it again!
---
July 2014
Here on Planet Uncle we are gearing up to the release of the vinyl single "Barefoot In The Car Park"/"Wet Weekend" on State Records at the end of the month. It will of course be available to buy from this website.

We're really pleased and excited to already have the A-side chosen as "Coolest Song In The World" by Little Steven's Underground Garage-the third time we've received the accolade. We're on their playlist from July 21st on Sirius XM. Last week Suzi recorded an interview for the station with DJ Mighty Manfred and I shall keep you updated as to when that will be aired.

Last month I had the great pleasure of recording a track with a string quartet. The song is called "No Idea" and it features on the new album. It was scored and conducted by Roan Kearsey-Lawson and the quartet are: Kit Massey (violin), Michael Belinfante (cello), Naomi Holt- viola and Ginette Decuyper (violin). Top musicians all and the result is fantastic! The new album,"Persuaded" is about to go to press and we shall be releasing it on our own label "Trouserphonic" by late September/early October. It's going to be available on vinyl, CD and as a download. There will be 100 "limited edition" copies of the vinyl album, a standard version and all vinyl will contain a free download code.

Track Listing:

1- Persuaded (Instrumental version)
2- Barefoot In The Car Park
3-Should Have Been Mine
4-Your Weight In Gold
5-No Idea
6-I Wont Be Fooled By You
7-High Time
8-Wet Weekend
9-Pocket Of Concern
10-What's Going On
11- You Look Good To Me
12- Persuaded (Vocal version)
"Shindig!" gave the single a glowing 5-star review in the last issue and in the August edition will be running a feature about us in their "In The Studio With..." section. Any reviews will of course be uploaded to the website.
---
March/April 2014
Over the past couple of months we've been in and out of the studio working on the new album "Persuaded". Miss Modus joined us to record lead vocals on 4 tracks-"Your Weight In Gold", "I Wont Be Fooled By You", "Persuaded" and "What's Going On". Along with Suzi she also provided some backing vocals. The sessions so far have been really enjoyable and we are nearing completion. Meanwhile, State Records have announced they will be releasing a vinyl, 7 inch single of "Barefoot In The Car Park"/"Wet Weekend" in July.

This will be part of their heavyweight acetate series, complete with card insert containing lyrics/credits and info. Very much looking forward to this. Another project I'm working on is a single with Miss Modus. More news on that as it progresses.
Finally, Suzi and I will be playing a couple of low key acoustic gigs and radio sessions in Cardiff at the end of July to promote the single.

More info later...



Photo by PHIL DILLON.
February 2014
It's been a while since I wrote a news update as a lot has been going on recently so I thought I'd better sit down and write some news. Over the last couple of months I've been writing new material for the next album and Groovy Uncle along with Suzi Chunk have been back in the recording studio. This time we are working with engineer Jim Riley at Ranscombe Studios and it was here we recorded two new tracks in January- Suzi's "Barefoot In The Car Park" and an instrumental titled "Persuaded".

Two other tracks are already in the can-we recorded those at the end of the "Play Something We Know!" sessions and they have remained unreleased but they will be included on the next record. Coincidentally all four tracks have a kind of "cinematic" quality about them-a cross between James Bond and Pulp Fiction-and I've written more tunes with that in mind.

I am very pleased to say Scottish vocalist Sarah Kennedy (AKA Miss Modus) will be joining us in the studio next time to record lead vocals on two or three songs as well as laying down some backing vocals with Suzi. For Sarah I have written a brand new song called "Your Weight In Gold" which (along with "Persuaded) is heavily influenced by John Barry-once again very "cinematic". Sarah is a great singer and we are all very much looking forward to working with her.

Finally, just a couple of days ago I received the news that the opening track from "One Vowel Away From The Truth"- " I Know Where The Sun Shines"- has been chosen by Little Steven's Underground Garage as Coolest Song In The World this week from 16th February. This is the second time we have received the honour the first being "Look Back And Laugh" in 2012 along with "Coolest Album In The World" for Suzi's "Girl From The Neck Down". The song will get heavy airplay for 6 to 8 weeks on Sirius XM. We are all very, very pleased!
---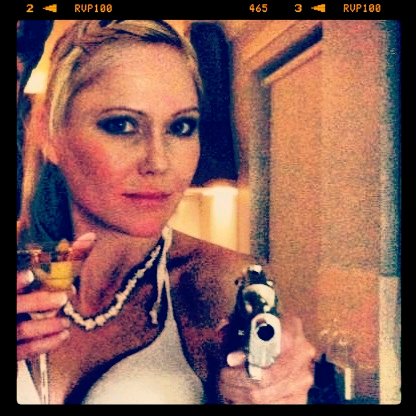 September/October
I'm very pleased to say the brand new album "One Vowel Away From The Truth" is now out there in the big wide world and we're already gaining radio play and some very positive feedback. The CD album is available to purchase here at the website's shop page for ?10.00 plus postage. If you prefer to download it is available from iTunes and Amazon and you can stream it from Spotify. We've already gained a glowing review from Way Off The Grid Radio and more reviews are in the pipeline. I hope those will be equally as favourable. Vibes player Roan Kearsey-Lawson uploaded a video of his session on "Consider It Done". It shows him doing a few run throughs and then recording in one take. Interesting viewing for all you musos out there!

I recently recorded an interview with Mark Waters for his Sounds Good show broadcast from East Lothian. I thought it would be edited down to a 10 minute interview but pretty much the whole thing was broadcast. If you can tolerate my rambling on you can listen to the full interview here: A hour with Groovy Uncle

I'm very pleased with the new album (and the previous 2 LPs and 2 singles, actually). I hope you buy, listen and enjoy the music too. Thanks for your support and feedback. See you next time!
---
July/August 2013
We are heading ever closer to the release of our new record-often called the "difficult third album". For us though it's been, as always, a great pleasure making it and "One Vowel Away From The Truth" will finally see the light of day in September. Once again I'd like to take the opportunity to thank everyone involved for their hard work and dedication and a special shout out to Graham Semark at Cyclone Music Productions for the splendid job of mastering and to Darryl Hartley for the fantastic illustrations for the sleeve. This album has been self-financed and will be on my own label, Trouserphonic. Initially it will be released on CD (available to purchase from this website) and as a download from iTunes, Amazon and the usual suspects.

As if we are not busy enough we also start work on a Christmas song in mid-August which we shall be recording at Borstal Road Studios.
---
May 2013
It's been a while since I've updated the website as things have continued to be pretty hectic. Our mini tour of France in March was very successful-we played Les Combustibles in Paris, Le Splendid in Saint Quentin and Monks Cafe Bar in Lille. The Saint Quentin gig was amazing and a much larger venue than expected! Thanks to Raphael Louviau and Baldo for inviting us, organising it all and the marvellous hospitality. We look forward to a return visit.

A fine time was had by all at Hipsville earlier this month. We met some great people and had an enjoyable time. Thanks to Ade Street and co for inviting us to play. The album continues to gain radio airplay including a spin from BBC6 Music's Tom Robinson and the Underground Garage remain supportive too. Meanwhile work continues with the next album and June sees us in the studio for six sessions. Working title for the album: "One Vowel Away From The Truth". The only downside is that State Records have told me they wont be releasing it so unless I can find a label/distributor I shall be releasing it myself.

As always-onward and upward!
---
January 2013
Happy New Year! Apologies for the lack of news updates recently but everything has been a bit hectic of late. First off, a big thank you to everyone who voted for Suzi Chunk in the Underground Garage Coolest Song In the World 2012. "Look Back And Laugh" made it to the Number 4 slot which is absolutely fantastic taking into consideration the stiff competition we were up against. "Girl From The Neck Down" also made it into quite a few end-of-year lists including the Hard Rock Cafe's Facebook page where it was named Best Album Of The Year. I'll be uploading some of the reviews to this website. I posted a thank you on Facebook to everyone involved with the project over the past year which I shall also upload to the website.

Already the diary is looking full as February sees the first of many recording sessions planned for 2013. I'm hoping to bring in some new musicians to play on the next album and I've got a dozen or so songs lined up that I'm very excited about. So far it's a 50/50 share of lead vocals for me and Suzi plus a couple we'll duet on.

In March we're off to France for two or three gigs in Paris, Lille, and Saint- Quentin. In May we play at the Hipsville Festival in Surrey.

Finally, I'm waiting for confirmation of a release date for a couple of Groovy Uncle tracks which didn't make it on to the "Play Something We Know!" album. I really hope they finally see the light of day.
---
Sept/Oct/Nov 2012
Apologies for the lack of recent news updates but things have been rather hectic. Well....Suzi's "Girl From The Neck Down" album has been very well received thus far and is gaining airplay all over the world and even became the very first "Coolest Album Of The Month" on "Little Steven's Underground Garage" show. This followed on from the single being honoured with "Coolest Song In The World" back in August. "Look Back And Laugh" is currently in the running for "Coolest Song In The World 2012" and we need your help. Please click on the link which should take you to the Underground Garage voting page. Scroll down the list, find Suzi and press vote. You can vote every 24 hours from now until 28th December. We are up against some very stiff competition so your votes mean a lot.

http://undergroundgarage.com/events/the-coolest-songs-in-the-world-2012.html

November also saw GFTND make it to the Number 1 spot on the "Whole Lotta Shakin'" Boss Countdown on WRUR New York. Thanks to Mike Murray once again for his continued support. Also, in the current issue of "Shindig!" magazine, the album shares the Number 2 slot (with Tame Impala) in the Writer's Poll Best Album of 2012 while "Look Back And Laugh" is at Number 3 in the Best Single section.

Mark Radcliffe gave "No Stone Unturned" a spin on his late night Music Club show on Radio 2 on October 30th and again on Radcliffe and Maconie's BBC6 Music show on the afternoon of 15th November. Let's hope this airplay continues.

There have been a number of positive reviews, comments etc with regard to the album, single and the whole Groovy Uncle project and I shall compile a list of them soon for you to read. Suzi recently gave a "30 Second Interview" to "M- Magazine Online" and thanks to Wayne Lundqvist Ford for his write up in "Ice Cream Man, Power Pop And More".

Ice Cream Man Power Pop and More (Ding Ding): Suzi Chunk - Girl from the neck down.icecreamman1967.blogspot.com

The support for the album in America has been (and continues to be) very strong and positive. Kool Kat Music in New Jersey are now stocking copies of the CD.

I'm currently working on some new tunes with an eye on the next batch of recordings so I'm hoping the New Year will see us all involved in some exciting new projects.


July/August 2012
The test pressings for the Suzi Chunk album "Girl From The Neck Down" have been approved and we are all eagerly awaiting the arrival of the finished product. The CD version is complete and looks and sounds great. Anyone interested in pre-ordering either format can do so here on the shop page of the website. August brings us our first airplay on "Little Steven's Underground Garage" when he'll be playing the single. Another highly favourable review appeared on the web this week courtesy of Ripple Effect in California. Buzzin' Music also published an online overview of the album and "Girl From The Neck Down" is their album of the month for September. You can read it on the reviews page here. Thanks to Mike Murray at WRUR for continuing to support what we and State records do and for playing the title track from the album on last week's show.

I'd like to finish off by thanking everyone involved in the making and supporting of the album:

Suzi Chunk, Mole Lambert, Marty Ratcliffe, Lois Tozer, Allan Crockford, Nick Rice, Ben Jones, Bruce Brand, John Littlefair, Peter White, Phil Brown, Jon Barker.

It's been a joyful experience from start to finish!

And thank you to everyone who buys it!

To read more about the making of the album and the stories behind the songs go to the Groovy Uncle Blog@
June 2012
As we head towards the end of June we're also looking at the final session in the studio to complete the album. A few "technical hitches" have set us back a tad but we should be able to iron out all the problems and finish the mixing on the last weekend of the month. Following on from the last news update the Suzi Chunk single gained another couple of plays on "Radcliffe and Maconie" (BBC6 Music) and even had an airing on the former's Radio 2 show "Mark Radcliffe's Music Club". More very positive reviews in "Shindig!", "Record Collector" Cardiff's "Buzz" magazine, "Sound Of Confusion" and "MMP". Lots of airplay in the US and Europe too. Well done to Suzi for making it to Number 1 on the Boss Countdown Chart for June on Mike Murray's "Whole Lotta Shakin'" show WRUR. Suzi and I have recorded an ID each for the show too. Also received an e-mail from the producer of "Little Steven's Underground Garage" radio show in the US saying Stevie Van Zandt (for it is he) loves the single and will be awarding it the "Coolest Record Of The Week" in a future show. Suzi has recorded an ID for him too.

Groovy Uncle made a rare live appearance at The Brands Hatch Mini Festival alongside the sublime Higher State and the fantastic Maker. All bands played extremely well and a good time was had by all. Hope to put some pictures up soon.

Look out for promo activity for the album very soon.

See you next time!
April 2012
At time of writing we are about to release the "Look Back And Laugh" single and the video which we filmed down in sunny Folkestone is now up for viewing on the video page of this website. Recording of the album is drawing to a close now that Suzi has laid down all her vocals and all that's left to do are some bv's on "For The Millionth Time" which should be done the first week in May. Suzi and I had a great time laying down the backing vocals for "Got My Eyes On The Prize" in particular. It's a lush ballad with 3 part harmonies and a very Dusty Springfield vibe to it. "Girl From The Neck Down" is a fun, country, mid sixties Beatle-esque track with a nod to Nancy Sinatra. These final sessions were great fun and we are all pleased with the way the album is shaping up.

The most exciting development over the past couple of weeks was the airplay we received on BBC6 Music's "Radcliffe and Maconie" on Good Friday afternoon. Stuart Maconie was hosting the show solo that day and he clearly loved "Look Back And Laugh", describing it as "fantastic" and reminiscent of "very early Beatles". It was great to finally get some exposure on such a highly regarded radio show but little did we know that more was to come. We received an e-mail from the BBC saying that Cerys Mathews had heard it and expressed an interest in playing it on her show. We tuned in on the day we were about to shoot the video and.... nothing. But... the very next day we received a message to say that "Look Back And Laugh" was being played on "Radcliffe and Maconie" again and they were raving about it! Both these clips can be heard on Suzi Chunk's Soundcloud.

So... if you'd like to buy the vinyl single you can order it here from the shop page via Paypal or if you prefer, the two tracks are available as a download from Amazon and iTunes.

See you next time!
March 2012
Gearing up for the release of the Suzi Chunk single "Look Back And Laugh"/"Tripwire" with increasing amounts of promotion. Bruce Brand of Arthole Retrographics is once again hard at work on the design for the sleeve and we're all looking forward to it's release on April 30th alongside the new disc from Paul Messis and Jessica Winter. You can see the red vinyl discs themselves (complete with retro label) here on the website along with a promo poster.

We're also moving ever nearer to the final recording sessions. Only 3 more songs on which to lay vocals and then a few overdubs and we should be finished apart from the mixing. In the meantime... this month I've started on what will be a regular blog.

It's all about the whole Groovy Uncle project so far and I'll be talking all about the stories behind the songs too. You can read it here http://groovyuncledotcom.wordpress.com I hope you'll follow and enjoy it and please feel free to comment.
And now you can even follow me (#GlennPrangnell) on Twitter if that's your sort of thing. See you next month!
February 2012
Suzi Chunk joined us in the studio on the 11th/12th and recorded more vocals including the B-side for the single. The basic tracks for every song on the forthcoming album are now on tape and two more sessions are booked for April to (hopefully) finish it off. The single "Look Back And Laugh"/"Tripwire" is to be released April 30th by State Records (THS 008) on 7" red vinyl in a laminated, flip back picture sleeve designed by Bruce Brand. A brief promo video of the session can be seen on the video page of this website.

For the session of the 18th/19th John Littlefair added the horn section to "I Can't Stand Mirrors" and "Big Screen". Following this Bruce, Nick Rice and I recorded the backing tracks to "For The Millionth Time", "Eyes On The Prize" and "Girl From The Neck Down" (album title track). The album is certainly a varied affair with styles ranging from acoustic ballads to straight ahead r&b, from soul to rock'n'roll and even a hint of John Barry influence. The sessions have all been very enjoyable, positive and productive and I'm really looking forward to unleashing it on the world!
---
January 2012
Groovy Uncle started the year as we mean to go on-with another enjoyable and productive recording session for the Suzi Chunk album. We hadn't been entirely happy with the original version of "Big Screen" we recorded back in the summer so we recorded a new version with Bruce Brand guesting on drums. While he was with us in the studio we also got him to play lead guitar on two other tracks "Look Back And Laugh" (the old Kravin' A's song) and a brand new one for me to sing called "Ordinary Day". Both have a real Kinks feel to them and Bruce's guitar style suits them perfectly. I'll be laying down the lead vocals on the 16th for this one. Suzi's recording session has been postponed until mid-February. Although "Look Back And Laugh" is intended for the forthcoming CD album, State Records have expressed an interest in releasing it as a mono, red vinyl single in the spring as a "taster" for the album. The B-side will feature a track that will NOT appear on the album. Again, this is an old Kravin' A's song called "Tripwire".

The "Play Something We Know!" album is still being received favourably and has cropped up in two more "Top 100 Albums Of 2011" lists. Firstly, David Bash (head honcho of the world famous International Pop Overthrow festivals and writer of our review in "Bucketfull Of Brains" magazine) placed us at Number 5 in his Hot 100 and a few days later Pedro C. Fernandez put us at Number 10. All very pleasing I must say!

Gig wise, I'm currently working on getting some shows in the Netherlands and hopefully more in Spain too.

See you next month!
---
November/December 2011
The two recording sessions in November were both productive and enjoyable. We combined the first weekend with some recording and rehearsing for our visit to Spain the following month. The second session saw a few guest appearances in the shape of Peter White on piano and John Littlefair providing the horn section while two former Kravin' A's- Bruce Brand and Jon Barker- also lent a hand. Bruce provided lead guitar alongside Jon's Hammond- style organ on "Got Any Mantras?" and switched to drums for "I Can't Stand Mirrors". "Wish Away The Moon", "I Can't Stop The Rain" and "It's Not Your Heartbreak" are shaping up nicely too. Suzi is back with us in the studio again in January to lay down some vocals.

Groovy Uncle's appearance at The Purple Weekend in Leon was a resounding success and a good time was had by all. We played to around 300 people and received a really good reception from the crowd. Thanks to Constan Chao and Lilpet Arduengo for inviting and looking after us. I'll be uploading some camcorder footage with a track from the first album soon.

Finally, "Play Something We Know!" was placed at number 2 in the Best Album of the Year section in Shindig! magazine's writers' poll for 2011. A nice way to round off the year.

A Very Merry Christmas and a Happy New Year!
---
September/ October
The Medway Happenings gig at the end of August went well and was really enjoyable despite a drop of rain during the first couple of numbers. Some of the set was caught on video and a live version of "Some Of My Best Friends" can be viewed here on the website. Also uploaded are a few still shots by Phil Dillon. Thanks must go to all involved in the organising of the event and to Jay Allen for getting everyone a great sound.

Work continues on the Suzi Chunk album and more demos have been recorded for the next sessions at the end of November. We're hoping to record another 4 tracks during those sessions and I'm massively looking forward to it! The first weekend in December sees Groovy Uncle in Leon, Spain for the Purple Weekend Festival 2011 which looks like a lot of fun and I'm hoping this will lead to more stints abroad.

Medway Eyes are set to release their annual compilation download ME3 which features many fine Medway bands and artists. Groovy Uncle are pleased to contribute "Danger Zone" to the album. There will be a launch gig at the Nags Head, Rochester featuring the fabulous Singing Loins on Friday 7th October. For full details please visit the Medway Eyes Website.
July/August
The first of the Suzi Chunk recording sessions have gone really well and we now have 3 songs in the can. Suzi laid down her vocals the last weekend in June. For "Probably Normal" Phil Brown of The Pepper Set added some lush flute playing which topped it off very nicely indeed giving it a real "lounge" vibe. The other 2 tracks-"No Stone Unturned" and "Big Screen" are sounding amazing too. The idea for the next Uncle album has now morphed into "Groovy Uncle- The Suzi Chunk Sessions" and I think it will be a great album to get to work on and there are plenty of songs to choose from.

On Sunday 28th August Groovy Uncle will be playing a set at The Command House in Chatham for the Oxjam event organised by Medway Happenings. Looking forward to this. Suzi will be joining us again and over this same weekend the two of us will be working on the next batch of demos for the album.

We've secured a gig in Spain for early December. No details as yet but it will hopefully lead to a tour early next year and I'm also looking into the possibility of touring the States. Meanwhile, I've just uploaded a new video for "It's A Shame" and if I can organise it, would like to make on with the band for "Old Peculiar".

It just don't stop!
June 2011
Over the past few weeks the album has been receiving rave reviews from the likes of "Shindig!", "Record Collector" "Medway Broadside" and Glasgow's "Double Breasted Modzine" (which also ran a double page feature on us). "Record Collector" even gave it a 4 star rating and described it as "exceptional". You can read the articles here by clicking on the link. We're all very pleased! Groovy Uncle's live appearances this month have been enjoyable too. The gig at The Drop in Stoke Newington was a bit lacking audience wise but we played well and had a great time. However, the All Dayer at The Fiddlers Elbow, Camden ( as organised by Colin and Jennie Baillie of "Double Breasted Modzine") was particularly enjoyable. We went on at 7pm and played a blinder. This performance was significant of course as it was our first one with the full new line up with Suzi on vocals. She did some great bv's and sang lead on "No Stone Unturned", Big Screen" and "Got Any Mantras?". As always, Suzi made a big impression and gained a lot of new fans.

Thanks to all the other bands who played and to Colin and Jennie for organizing the event.

At time of writing we are on the verge of going into the recording studio for Suzi's debut at State Records. Allan, Mole and I recorded the backing tracks on the 19th which leaves vocals and overdubs to be done. After this I would like to get a few more live gigs to promote the new line up and promote the album further.



Good times ahead!
May 2011
Groovy Uncle is pleased to announce that Cardiff's finest "singist" Miss Suzi Chunk will be recording 3 songs with us at the end of June as well as joining us on stage on the 18th June at The Fiddlers Elbow, Camden for the "A Little Mixed Up" All Day-er. Suzi joined Ben Jones and I on stage at The Barge, Gillingham on April 16th for an acoustic set of Uncle tunes and put in a blinding performance. During the weekend of her stay here in Medway we recorded a couple of demos- "Big Screen" and "No Stone Unturned"- with Suzi on lead vocal . They sound terrific and we will be recording these at the session in June. The third track is one I've written especially for her to record- "Probably Normal". I'm really looking forward to these sessions. Prior to this Groovy Uncle will be playing once again at The Drop (Below The Three Crowns) 175 Stoke Newington High Street at a State Records Showcase alongside The Lykes Of Yew and Sleeping Bear. There will be merchandise for sale at both these gigs. Suzi has also invited Groovy Uncle to play a live session in Cardiff as part of "The Sandwich Show" some time in the next few months.

Meanwhile the filming of The Singing Loins video for "House In The Woods" is complete and is currently being edited. It was good fun to do and I hope it goes down as well as "Please Take My Scissors Away" did two years ago.
April 2011
At the end of March I filmed the new Paul Messis video "The Problem With Me". We shot it in the basement of Googies Cafe in Folkestone. The band included Marty and Mole of State Records plus Madeleine Collins as Girl On Bass Guitar. The end result is a vintage looking promo and is very pleasing to watch. You can view it on the video page.

So far we've had a great response to the album and it is now available as a download from iTunes and Amazon and can also be heard on Spotify. Coming up this month I'll be performing an acoustic set along with Ben Jones and Suzi Chunk at The Barge in Gillingham. The gig is being organised by Medway Eyes and we'll be supporting The Len Price 3. Obviously we'll be playing acoustic versions of the songs from the album plus a song or two not featured. Suzi has kindly agreed to travel all the way from Cardiff to join us and will be singing lead vocal on a couple of Uncle songs. We will be doing some recording together very soon as well. I've already heard a couple of demos which sound terrific!

On the 10th April I'll be working once again with The Singing Loins on their video for a new version of the excellent "House In The Woods". We're filming on location so let's hope the weather is kind.
March 2011
This month at last sees the release of the vinyl album "Play Something We Know!". It is available to buy from the shop page of this website via Paypal from March 14th. On Saturday 5th Ian, Ben and I filmed a video for one of the album tracks-"Can't Get Arrested"- on location in Rochester . Thanks to Groovy Auntie for the camera work and to Phil, Syd and Josie for their cameo appearances. Also thanks to all those good people who just happened to walk into shot while we were filming. This gave it a bit of "reality". You can view the new video on the video page.

Much airplay for Uncle over the last few weeks (Cpt Stax on Mod Radio UK, Mike Murray's "Whole Lotta Shakin'" and Bill Kelly's "Teenage Wasteland" to name only a few) and thanks to Simon Franklin for writing a piece in this Blog @ find the torch, burn the plans

Also included is a Groovy Uncle Mixtape Simon asked me to compile. Just a few of my favourite tracks with accompanying videos. The March edition of WOW Medway magazine hit the High Street on March 1st and features an article about Uncle as well as a cover shot of yours truly. Looks good. Thanks to editor Emma Dewhurst.

It's looks like there won't actually be a launch gigt for the album though Groovy Uncle will be performing at The Drop Below The Three Crowns, Stoke Newington in June.

As far as more videos are concerned there are one or two projects on the horizon including a brand new Paul Messis promo. There is also The Three Monkeys Film Festival in Folkestone organised by Janine Gray

Three Monkeys Film Festival | The Medway Broadside who has asked if a few films from Groovy Uncle Productions can be included. It's an honour of course.

Now we are virtually on the eve of the album's release I'd like to thank everyone who has been involved in it's making for all their hard work and enthusiasm. It's been a blast! Also thanks to all you Groovy Uncle fans worldwide for your kind words of appreciation and support.

Finally, on a sad note, I heard from Rosemarie Edwards (who runs this site among many others) that one of "her guys" - Tony Barter of The Black Diamonds - has passed away. I didn't know him personally but I know that Rosemarie and many others were very fond of him and I'd like to offer my condolences.
---
February 2011
The vinyl album release date is now set for March 14th and will be available to buy at this website. The downloadable version is also set for release on iTunes, Amazon etc for April 1st. Some copies will be sent out to record stores and we've got some nice advertising posters done for this purpose. Thanks to Jon Abnett for arranging this for us. On the 18th Groovy Uncle are scheduled for some airplay on Mod Radio UK once again and will probably be playing a couple of exclusives and a radio "jingle" from Uncle too. There is another online interview in the pipeline and thanks must also go to Matt Grant for this mention on his site The Right Side Of Funky / Reviews

Filming wise, I'm hoping to get a promo together for "Old Peculiar" (from the album) and this time I wont be filming/directing-that'll be in the safe hands of Simon Williams @ O Production www.oproduction.co.uk/about.html

I will, however, be shooting a promo for Unlucky Fried Kitten on the 14th Feb somewhere in Maidstone. We're doing a great track of theirs called "Seventies" and I'm sure it'll be a lot of fun.
January 2011
Here we are at the start of another year and it looks like it's going to be just as hectic for Groovy Uncle as 2010 proved to be. The last few days of December saw two film making projects for me with The Singing Loins video for "Where's My Machine Gun?" on the 20th and Aunt Nelly's "Day Trippin"" on the 30th. Both shoots went extremely well despite the inclement weather threatening to cancel all proceedings. The Loins vid is now out there in the big, wide world and Aunt Nelly's will be viewable by mid-February. I'll also be working with the Loins once more very shortly on their "House In The Woods" video- a song that is a personal favourite of mine.

December also saw Groovy Uncle make it to NUMBER 1 in the "Whole Lotta Shakin'" Boss Countdown on New York's WRUR. Thanks to the show's host Mike Murray for regularly playing our sampler.

On the 8th'9th January I returned yet again to Sandgate to work with those nice people at State Records. This time we mixed the three tracks from the last session as well as recording and mixing two new ones. "You Look Good To Me" and "Wet Weekend" turned out to be very big sounding productions with a "Pet Sounds" vibe on the former and an amazing "big" production on the latter. It really was an enjoyable weekend and very productive too.

So that's it for the album-all recorded and mixed and ready for release in March. There will probably be a launch gig but no date or venue has been decided yet. We'll be doing some other promotional things too. I'm lined up for an interview with WOW magazine and "The Sound Of Confusion" with Kev Wright on Radio Scilly and there has already been an article or two in "Shindig" magazine that have been very favourable.

It's all shaping up very nicely!
December 2010
The last few weeks have been quite eventful. After the tremendous response to the "Count On Me " video (already over 1000 views!), an enjoyable evening at The Lovedays film premiere and much anticipation about finishing off the last 3 tracks for the album, I received an unexpected but most welcome e-mail from Bob Wence.

I have mentioned Bob before within this website. He was in a band in the 60's called The E-Types who recorded some mighty fine work and Bob has never lost his love of music. Over the past couple of months he has expressed a keen interest in Groovy Uncle and given nothing less than immense encouragement to us while wishing us all the very best regarding next year's release of the album. Bob has very generously offered to finance the US release of the album on CD. This version will probably contain a bonus track or two plus a lyric sheet. Bruce Brand of Arthole Graphics has already begun work on the sleeve design and I know he'll do an amazing job. He has designed sleeves for the likes of The Darkness, Holly Golightly and The White Stripes . I'd like to take this opportunity of thanking Bob for all his kind words of encouragement and for his more than generous offer of help and support.

I'd also like to take the opportunity of thanking everyone involved in the making of the Groovy Uncle album and single. It's been a complete joy from start to finish. Thanks then to Ian, Ben, Allan, Marty, Paul, Mole, and to Lois for allowing me to stay over a few times after a recording session. Thanks to all the radio stations who gave Groovy Uncle some air time (particularly Mike Murray at WRUR) and to Rosemarie Edwards for her tireless work and dedication to this website. Thanks to YOU and everyone who has visited the website and for all the positive comments I have received over the last year or so. As a little Xmas present I have uploaded 3 tracks from the forthcoming album for you to hear.

Have a very Merry Christmas and a Happy (and Groovy) New Year!
November 2010
At the time of writing I am uploading the brand new Groovy Uncle video "Count On Me". We filmed it at The Medway Little Theatre on Wednesday 3rd November late afternoon and it all went according to plan. I'd like to thank Dan Willis and all at the theatre for allowing us to do the shoot at this lovely venue . "Count One Me" will be the first real promo for the forthcoming album "Play Something We Know" which is to be released around March next year. A four track promo cd has been doing the rounds of many radio stations around the world and the tracks are getting a very positive response so far, especially in the States. Bill Kelly and Mike Murray (of WFMU and WITR New York respectively) continue to play Groovy Uncle tracks and there have been plays in Holland, France, Greece and Germany too.

On the 30th of October the Groovy Uncle live line-up of Allan Crockford, Ben Jones, Mole and Glenn Prangnell finally took to the stage at the State Records Showcase which was held at The Drop in Stoke Newington. It was a really enjoyable night and all 3 bands (Uncle plus The Lykes Of Yew and The Higher State) played great sets and went down well with a very enthusiastic crowd. Thanks to Phil Moore for organising the event. I suspect Groovy Uncle will be doing a couple more shows as we get nearer to the album release date.

Ben Jones is, as I write, in the middle of recording a second solo album "Kaleidoscope". I spent the day in the with him at Ranscombe Studios earlier this week where I filmed a bit of footage for a promo as well as joining in on a bit of backing vocal work. It was a good day.

After what seems like a lunchtime the Lovedays documentary "The Key To The Trap Door" finally gets it's premiere on Friday 12th November in Rochester. Looking forward to that immensely and hope it goes down well with their fans. After that we have the final recording session for the Groovy Uncle album.



It's certainly been a busy year!
October 2010
While on holiday in the Lake District in late September I put together a promo film for "Heathen Child" which is now up for viewing here on the website. More video work is coming up soon. As well as thinking ahead for a Groovy Uncle shoot which will promote the forthcoming album, there is also a promo for a project by Ian Snowball in discussion. Ben Jones too has mentioned that he will be wanting a video for a track from his solo album too. Much to think about film wise.

Regarding the Groovy Uncle album "Play Something We Know", things are progressing nicely. We have just finished mixing the three songs we recorded a few weeks back and they really do sound good. Ben did a particularly nice 12-string acoustic job on "Can't Get Arrested". As mentioned before the release is set for March 2011 and I've now got former Kravin' A Bruce Brand of Arthole Retrographics on board to design the sleeve. I need to get cracking on ideas for the photo shoot very soon. The live appearance in London (see poster on the home page for details) is getting nearer and I'm looking forward to it. I'd like to get the live line up together in the studio in November to record the last 3 tracks for the album. I haven't decided which tracks to record for that session yet but I'm getting there.

I'd like to take this opportunity to thank Bob Wence -of American 60's legends The E-Types- for getting in touch and for all his kind words about Groovy Uncle and The State Records sound. He managed to get us played on New York's WFMU last weekend and there may well be more airplay to follow. Also being released on Friday 16th October is the Medway Eyes 2nd Birthday Compilation and it features among other great songs by various local artists, "Life's A Gift" by Groovy Uncle. Details here ME2 - The Album - Medway Eyes

And while all this is going on I'm working with Ben Jones on some new stuff too. Last week we finished of our first collaborative song. It's sounding good too!

Finally, when all 12 tracks for the album have been recorded and mixed I'll be uploading some sound clips to the website. Hopefully this will be some time in December-a little Christmas teaser from Groovy Uncle!
---
September 2010
The State Records promo film "Nobody Knows That We're Here" was completed just after the last news update and can be seen here on the videos page. It features interviews with Marty Ratcliffe and Mole talking about the studio and its creation and some sound clips of some of the label's artists. I also gave a brief on screen interview as did Paul Messis. After the shoot Paul expressed a keen interest in shooting a video for his track "Time Will Tell" so we arranged to go out filming on location around the Medway towns over a couple of Sunday mornings in late August. For the first filming session it was Paul doing his lip syncing to the track down on Sun Pier. We also shot a few bits and pieces of him walking by the River Medway. We were lucky as we had an early start when the weather was good. When we finished shooting the rains came.

The following weekend Paul returned for more filming only this time he brought along two co-stars-Samira Larouci and Katie Herbert. With them we filmed an introduction scene to the film along a nice looking terrace in Rochester to give an authentic "sixties" look. This then led on to some filming of various "trick" shots in Strood and Rochester to be cut in and out of the final edit. It's in black and white and looks rather good I think. Paul said he wanted a chic French sixties look to it with a smattering of Beatles "A Hard Days Night" era. I think we got reasonably close to that and thus far the video has had a very positive reaction. You can view it here on this website along with a few photos of the shoot.

At time of writing I have just returned once again from Sandgate having completed 3 more songs for the album "Play Something We Know". This time we recorded "High Maintenance Girl" "No Stone Unturned" and "Can't Get Arrested". Everyone worked really well together once more and Ben jones did a particularly good piece of guitar work on "Can't Get Arrested". I'll be going back to mix these tracks in October and hopefully we are looking at November for the final session to complete the album.
---
August 2010
It's been pretty much non-stop filming and recording projects these last few weeks. I've been thinking about a part two to the Wolf Howard short feature. This time it's "The Poetry Of..." Wolf has provided some footage as well as some charcoal drawings and of course the poetry. Before that I must get to work editing the promo for State Records ,"Nobody Knows That We're Here". This will feature interviews with Marty, Mole, Paul Messis and a rare talking appearance from Yours Truly. I filmed some stuff while I was down at Sandgate over the weekend of 24th/25th July and even got some footage together for Marty's single "Or Forever (Live Without)" You can see the resulting promo on the video page of this website.

Of course, the main reason I was back in sunny Sandgate was to mix the Groovy Uncle tracks we recorded a while ago. We did mono and stereo mixes of all three and they sounded great. Mole had some reservations about the previous three we had mixed so we agreed to go back to those for a listen and I have to say they sounded nowhere near as good as the new mixes. We remixed them (also in mono and stereo) and sound much improved. The whole thing is beginning to sound like an album now. I'm back down there in early September for another recording session. Another six tracks and we've got an album!

Currently underway is the organizing of a State Recording Artists gig at a (as yet unconfirmed) venue in London on October 30th and, yes Groovy Uncle will be playing a set. The band line-up is Me, Ben Jones, Mole and Allan Crockford.
So as usual there is lots of work to be getting on with.
---
July 2010
The Lovedays documentary film "The Key To The Trap Door-From The Medway To The Mersey" is now complete and has been given the once over by front man Ben Jones. He is pleased with the end result and will be organising a premiere at a yet-to-be-confirmed venue in Medway. The whole experience of making the film has been really enjoyable and I'm looking forward to working again with The Lovedays in the future. You can read more of my thoughts on the subject on the blog page of this website.

I wont be going to State Studios until the latter half of July to mix the Groovy Uncle tracks we recorded a while back. I will also be making a film to promote the studio and their current stable of artists-The Lykes Of Yew, Paul Messis, The Hidden Masters and Groovy Uncle-which will probably be a short, ten minute thing for You Tube. We all had another mention in the latest issue of "Shindig" too. Earlier this month I was asked if I'd like to contribute a track to the compilation album of The IPO (International Pop Overthrow) by David Bash himself (see last month's entry) but , alas it wasn't to be this time. I was pleased to be asked though, considering I have never even played at an IPO festival.

My latest bit of news though is the announcement that I will be working with Ben Jones on a recording project separate from Groovy Uncle and The Lovedays. We are going to each select some of our own songs and record what will eventually be a Prangnell/Jones collaboration album! I'm looking forward to this and there will be some brand new songs in here too. It's all very much in the talking stages at the moment but Ben seems genuinely keen to do it so I'm sure it will be very interesting. Can't wait!
June 2010
Another productive and very busy few weeks on Planet Uncle. Three tracks have been laid down at State Studos. Brand new versions of "Danger Zone", "Count On Me" and "Got Any Mantras?" were recorded on the weekend of 22nd and 23rd May. I'll be returning to State in a few weeks for the mixing.

Work continues nicely on the Lovedays documentary. It even has a title now- "The Key To The Trap Door-From The Medway To The Mersey". We all had a fantastic time at the IPO festival in Liverpool on the May Bank Holiday weekend and I filmed plenty of footage including a busking session of The Lovedays at the gates of Strawberry Field. They performed an acoustic version of "Gypsy's Daughter" and "Roll Over Beethoven" in front of a small but delighted crowd.On Sunday night the band played an electrifying set at The Cavern which completely brought the house down! I am pleased to have been invited to capture it all on film and the entire performance (bar one song which had to be cut for technical reasons) has now been edited for inclusion in the documentary. I've put together a trailer which you can view here on the website. Thanks to everyone involved for making it such a memorable weekend and to David Bash (IPO) for putting on the event and contributing a short impromptu interview on camera.

Another project I'm starting on is a short film about the work of Medway artist, musician and pinhole photographer Wolf Howard. I'll keep you updated.
May 2010
More filming of The Lovedays has been ongoing over the last few weeks including some live footage filmed at the Rochester Castle Gardens on 30th April. A great night and fantastic performance. "Red Letter Day" has now been uploaded here on the website's video page.

Groovy Uncle are booked in for a recording session at State Studio on the weekend of 22nd and 23rd May and we'll be rehearsing for it on the 11th. Paul Moss and Ben Jones are back this time and we'll be recording 3 tracks that will (hopefully) be included on the album. One of the tracks recorded at the last session is being considered for inclusion on a compilation being put out by "Lost In Tyme" fanzine. Talking of which, last week I gave an interview on for the publication which will also be included in a future issue.

The "Monkey Trousers" single continues to receive regular airplay notably on WITR New York's "Whole Lotta Shakin'" show introduced by Mike Murray. The record currently stands at number 7 in the station's Boss 20 Countdown! We have also received airplay on Mod Radio UK. I finally managed to film a video for the single a couple of weeks back on a beautiful Sunday morning down by the River Medway. We were actually scheduled to film it down in Ramsgate with the full band but due to illness we had to cancel at the last minute. The weather was too good to miss a filming opportunity so I did a solo version.

There is now a possibility of a State Records artists gig at a venue in London on July 10th but is yet to be confirmed. I know Ben and Paul can't make that date so I'm hoping Marty and Mole will do the honours.

Of course the filming will continue throughout May for the Lovedays documentary project culminating in the weekend In Liverpool and The Cavern gigs on the 30th. Looking forward to it.

Have a great month!
---
April 2010
The launch party for the single on the 13th March was a great success and exceeded expectations. The venue was full, all the bands put in fine performances and we even sold a few records. Job done. So the single is now out and about and even available to buy via this website. An advert was placed in this months "Shindig" magazine, "Lost In Thyme" (fanzine in Greece) are going to run a review in the next issue and "Monkey Trousers"/"Now Your Pain Is Over" has been played four consecutive weeks on New York's WITR radio show "Whole Lotta Shakin'" as well as more mentions and airplay on Radio Scilly. Things, it seems, have been ticking along nicely, thank you.

As for upcoming events, well a couple of things have fallen by the wayside for now-the video for the single and the Billy Wears Dresses shoot had to be postponed for reasons beyond my control. A little disappointing but these things are sent to try us and there are plenty more exciting things on the horizon.

In a few days time I'll be back at State Studio to mix the three tracks we recorded in February. We are already talking about the first Groovy Uncle album though that is a while off yet. I'm hoping there will be another Radio Scilly interview in the near future too. The two most interesting projects though are happening in May and November. I have been asked by The Lovedays to film their performance at The Cavern Club, Mathew Street, Liverpool on 30th May. This is part of the International Pop Overthrow event at which the band played last year. The Lovedays will play two performances on Sunday but as well as filming the gig I will be shooting some interviews and "in and around Liverpool" type documentary footage. If it works out well there will be a "rockumentary" (hate that word!) available soon.

In November Groovy Uncle are going across to France to play a gig or two in Paris and will be recording a new version of "Count On Me" while we are there.

Finally, there is now a Groovy Uncle fan page on Facebook. See you there!
---
March 2010
As expected February proved to be a hectic and productive month. Although the video shoot with Chris Hearsey was postponed I wasn't left bereft of other projects to be getting on with. I already had The Dentists "Creature Out Of Control" and The Lovedays "House Of Cards" video shoots to look occupy my time. Both promos were thoroughly enjoyable to work on but very different from each other. The Dentists wanted a fast moving montage of old photos from the bands history cut with new footage of (some of) them in rehearsal for their eagerly awaited reunion gigs. Thrown in were some speeded up shots of a Magical Mystery Tour around the Medway Towns.

The Lovedays was more in the classic pop video stylee filmed on location with front man Ben Jones and the band shots filmed at The Barge Pub in Gillingham. I think all concerned are happy with the results and you can view them on the videos section of this here website.

The most exciting event for me this month though has been the release of the debut single-on glorious vinyl in glorious mono-from Groovy Uncle. Yes folks, "Monkey Trousers"/"Now Your Pain Is Over" it is now officially on sale! And to top it all, we even have some distribution with Rough Trade, Get Hip and Intoxica. It is available on line from e-bay and will soon be available directly from Groovy Uncle. More on that later.

The last weekend in February saw Groovy Uncle back at State Studios to record 3 tracks-"Play Something We Know", "Some Of My Best Friends" and "Vanity, Snake Hips And Hair"-with Marty and Mole taking lead and bass guitar duties this time. Sounded great and I hope to release them in the near future.

While down there we discussed with our friends at Googies Art Cafe the possibility of shooting a promo film for "Monkey Trousers" in their basement and it looks like it could be happening on Easter Sunday. All this and another Billy Wears Dresses video in May.

More good times ahead methinks!
---
February 2010
The release of the Groovy Uncle single "Monkey Trousers" is getting nearer and a launch party has even been organised. State Records are also due to release, on the same day, "Mr Wednesday" by The Lykes Of Yew so Mole at State has booked a venue for the bash on March 16th. The Lykes will be playing, Marty and Mole will be deejaying, there may be a support slot from Sleeping Bear and, if all members are available on the night, Groovy Uncle will take the stage. I'm looking forward to hearing the bands and meeting some new people. It's all taking place at The Bar Below@ The View 6-8 West Terrace, Folkestone. Looking forward to it!

On the 6th February I'll be in the studio (again at State) for a rehearsal with the band. This time, however, Marty and Mole will be on bass and lead duties for a recording session due to take place the last weekend of the month. We are hoping to record 3 tracks.

The very next day I'm filming on location in Reculver with Medway singer/ songwriter Chris Hearsey for a promo of two tracks from his excellent concept album "Tael". Also coming up film wise is a promo for The Lovedays (from their soon to be released album "House Of Cards") and I'm also working on something for recently reformed Medway legends The Dentists. When I get time I also need to begin work on a promo for "Monkey Trousers" too!
---
January 2010 - again
After deleting the Groovy Uncle My Space in December 2009 things started to move forward with the band so I decided to create another profile which is now up and running. This time, however, it will be more about the band and the music rather than a personal My Space for me. For that side of things I have now joined the Facebook phenomenon. You can find me there under Glenn Prangnell.

The artwork for the single is now complete and I'm hoping for a March release. Gigs to promote it may be forthcoming. I'm hoping to do a short set at The Nags Head in Rochester supporting a couple of top notch Medway Bands and a gig or two abroad. The single should also be available to buy online.

I'll also be starting work soon on a brand new track for recording at Ranscombe Studios, Rochester along with a version of one of my older songs featuring a female singer. The tracks will also feature a string arrangement For this, Paul Moss has kindly agreed to write the score which is a huge help to me as I lack those kind of skills.

Coming up film-wise is a shoot with local musician Chris Hearsey. We are going to make a video featuring a couple of tracks from his excellent concept album "Tael". T'will be great!

Lastly, I may be collaborating with another musician on an instrumental of mine to which he has written some lyrics .

Over and out!
---
January 2010
Happy New Year! Despite the inclement weather and a rather ominous, inauspicious start to the decade, things are still moving very much forward for Groovy Uncle. Slowly, I'll admit, but forward nonetheless. The single "Monkey Trousers"/"Now Your Pain Is Over" is due for a March release on State Records. Head honcho Mole is working hard on the artwork design for the sleeve as well as getting down to some promo work. Groovy Uncle will be back in the studio (again at State) the last weekend in February to record 3 more tracks for a future release. This time, however, Mole along with Marty Ratcliffe will be joining the line up to provide bass and lead guitars. As with all my projects the line up situation is always subject to change and musicians' availability and I'm sure Ben Jones and Paul Moss will be involved in future projects. I'm hoping to get together some footage of the sessions and put together a mini documentary for You Tube.

I'm also hoping to do a few gigs to promote the single. We've got something lined up in Paris for May though I have absolutely no idea what the line up will be. The icing on the cake for me would be to release a complete album, though we shall have to wait and see.

Keep warm!
---
December 2009
I've decided to delete the My Space profile in the New Year as I think it has kind of run it's course. This will allow me more time to concentrate on other things including this website. However, if the band does eventually take off and proceeds to record some good stuff I'll probably end up putting a band profile on there in a few months.

The Billy Wears Dresses video shoot for "Shirley Valentine" has been put on hold until the New Year. I still intend to go ahead with the single sometime in the next few months and there is now talk of a few gigs in France and possibly one or two nearer to home as well. I've already worked out a set list! Gigging is something I haven't done for a few years now as I kind of fell out of love with it all but the prospect of playing with a bunch of musicians I haven't worked with before combined with the lure of a break in France has not been altogether unappealing I must say. Should be interesting.

The recording projects are still in the air and we continue to try and co-ordinate dates/times etc. I'm sure we'll get there in the end!

Now I am planning to leave My Space I will be uploading more tracks here on the website shortly.

Finally to anyone who might read this, have a very Merry Xmas and a Happy, Groovy New Year! Glenn.
---
November 2009
Another busy few weeks for Uncle. After Medway Eyes spokesman Phil Dillon's interview on Radio Scilly (November 5th) promoting the Birthday Bundle Compilation, I was asked on the show (via phone link) the following Thursday (12th) to chat to "The Sound of Confusion" host Kev Wright. A few days prior to the interview he played "Got Any Mantras?", "Danger Zone" and plugged the video for the latter. The interview went well and lasted about 15 minutes. Again "Danger Zone" was played but also "Monkey Trousers" was given it's very first public airing-an exclusive for Radio Scilly! You can listen to the interview here though the songs have been edited out.

Meanwhile plans are afoot regarding exciting projects for the New Year. The Groovy Uncle Band will be getting together again at State studios to record 2 tracks-"Some Of My Best Friends" and "Play Something We Know"- and also at Ranscombe Studios in Rochester for a slightly more ambitious project. I've written a brand new song called "Neptune Girl" which I want to be a more "produced" affair with strings etc and we'll be recording a brand new version of "Big Screen" and a female singer will be taking the lead vocal. I won't mention her name yet just in case she decides not to do it but if all goes well I think this could be a really enjoyable and interesting experience! The hardest part is getting everyone to agree on a date for all this as everyone is so busy.

One bit of disappointing news is that The Medway Eyes Christmas Party (scheduled for 5th December) has been cancelled due to a lack of response from artists. As always everyone is busy this time of year and have other commitments. It would have been my first live performance for over a year.

Still, onward and upward!
---
October/November 2009
The recording sessions at State Studios are now complete and I'm happy with the end result. All along I wanted to achieve a "live" sounding performance and I reckon we got that nailed. There is talk of the two tracks- "Monkey Trousers" and "Now Your Pain Is Over"- being released by State Records early next year as a vinyl single. This would be welcomed as it kind of sounds like an old 1960's 45rpm already! Thanks to Marty and Mole at State Records for their enthusiasm and hard work and of course many thanks must go to Ben, Ian and Paul for being The Groovy Uncle Band.

We are hoping to get together again soon to work on a couple more old demos of mine but I haven't chosen the songs yet. Everyone has been most positive and keen on the project that it seems silly not to do more. I also need to get to work on ideas for a "Monkey Trousers" video too!

Talking of videos, I have just finished work on the Billy Wears Dresses promo "Wonder Boy" which we filmed in Maidstone a couple of weeks ago. This band is another of Ian and Paul's projects. This was an enjoyable (though very cold) and successful day's work too.
---
October 2009
The Groovy Uncle Sandgate Sessions are well and truly under way. After a successful rehearsal at State Studio on Saturday 3rd, we have now begun the recording process and have laid down the backing tracks. It's really sounding great so far and everyone has put in a lot of hard work in learning their parts. We return to the studio on Sunday 18th to get vocals and percussion down (along with any other embellishments) and hope to come away with some rough mixes. The final mix should be the following weekend.

There will be some photos from the sessions uploaded shortly along with a few from my trip to the Scilly Isles.
---
September 2009
Just returned from our holiday in the Scilly Isles where we had a fantastic week. The sun shone the whole time and didn't feel like the U.K at all. Of course, while i was there I shot about 4 hours of film footage some of which I have used to put together a promo for "Danger Zone"-now on the videos page. The Effectives video shoot has been postponed at time of writing and I don't know when the new date will be at the moment.

At the beginning of October I am going into the studio with The Groovy Uncle Band to record a couple of tracks. Up to now I've only recorded alone playing all the instruments myself but I thought it would be interesting to get a bunch of musicians together to rework some old demos of mine.
The line up is: Ben Jones on lead guitar, Paul Moss on bass, Ian "Snowy" Snowball on drums and yours truly on rhythm guitar and lead vocals. I think it will be an interesting and enjoyable experience as I've not worked with any of these fellows before. We are recording at State Studios down in Sandgate.

Looking forward to it!
---
August 2009
A busy month so far what with organising upcoming projects and working once again with The Singing Loins. After the positive response to their "Please Take My Scissors Away" promotional film (as they were called in the olden days) The Loins decided to give it a public airing at The Barge in Gillingham as part of their album launch night on the 7th. The video was certainly well received when it was shown at the interval and everyone laughed in all the right places which came as a huge relief to me, I can tell you! The lads also asked me to film the gig for another short promo to boost the publicity for the album, a task I happily performed. It was a really good atmosphere on that hot August night and you can view the montage on my videos page.

I've also had a meeting with Medway popsters The Effectives to talk about their video shoot. Looks like it may be filmed at The Good Intent pub early in the morning and there may well be some dancers involved! The track we are filming is "Mary Mary" and I like it muchly. Filming isn't until the 26th September and I'm really looking forward to it.

Meanwhile The Loins are talking about another film, this time "The Topless Twins Of Allhallows-On-Sea". I'm saying nothing......!
---
July 2009
July has been a busy month. On the 4th I spent the day filming with Medway folk legends The Singing Loins. This came about after I recently got into making videos for my own songs and thought it might be interesting to do the same for other bands I like. The Singing Loins were the first to spring to mind as they have great songs and work well visually. Luckily for me they agreed to my idea and said they had recently been discussing the prospect of making a video. The track they chose was to be the single from their forthcoming album "Unravelling England" -the compelling "Please Take My Scissors Away". I'm glad they chose this one as I'd heard them play it live a couple of times and thought it rather "theatrical". I knew it would work as a promo film. Frontman Chris Broderick came up with a shooting script within a few days and kitted the band out in smart tea dance band outfits (and drag for Arf), came up with a set, props and lights and before we knew it we were making a damn good little promo! It was a pleasure working with them and I hope to do so again in the not too distant future.

I'm also lined up to do a shoot for another Medway outfit, this time it's the turn of The Effectives. I think this one should be a more traditional pop video though. Looking forward to it.

As for my own stuff, I'm currently working on an animated feature for the track "I Can't Stand Mirrors (And I'm Scared Of Heights)". We've made a little set and some plasticine characters-a Mini Me, Elvis and a Giant Mouse-though it's more "Vision On" than "Wallace And Grommit".

Good fun.