By this time our line-up had changed, for the first time, and was something we became quite good at! Vic Larkins, our 'ace' lead guitarist, was not allowed to turn 'pro' (by his dad!) and having got through the recording tests, spent the rest of his life working at Barking Power Station wondering what might have been. Mick Johnson, rhythm guitar, had also gone, and had been replaced by John 'Lon' Lyons, and we were joined for a very short period of time by, Ricky West on lead guitar, who then went, in a swap for Steve Scott from the Tremeloes! This was the 'Castaways' on those early records. I would do the lead vocal, with 'Lon' Lyons sharing the 'mike' with me for his harmony part, while 'Shirt' would play drums and sing his harmony 'live' on an overhead 'mike'! Three songs in three hours 'live'! We made six singles for EMI between the years 1963-1966. In between the 5th and 6th EMI single we recorded one song for the Immediate label, 'Girl Don't Tell Me'. This in my opinion was our best single. It was produced by Andrew Loog Oldham, recorded at IBC Studios in London. A Brian Wilson song, that had been released as a B-side by the Beach Boys. Their version, unusually, had no harmonies, but Andrew thought it would be great as a harmony record. We did a 'Beach Boys' on it. I love it, apart maybe, from the end section, (Andrew Oldhams' idea to do a bit of 'Walk Like A Man'). However, the great British public never even got to hear it, due to lack of airplay, which seems amazing to me now. We must have appeared on more 'live' or pre-recorded BBC radio shows, than almost anyone, but when it came to playing our 'singles' they didn't! Remember, way back then, there was only the BBC, or Radio Luxembourg, to plug your records, no independant stations. Interestingly the sixth, was self produced and was, 'God Only Knows', a song played to me by Bruce Johnston, of the Beach Boys, when I met him at his hotel, the 'Waldorf' in London. It was a track from their new album, not yet released in the UK, 'Pet Sounds'. He suggested we should record it, as they had no plans to release their version as a single, Ha! The rest, as they, say is history!

We had changed personnel again by this time and it was Brian Hudson (drums/vocals) Tony Harding (gtr/vocals) Kenny Rowe (vocals) 'Lon', Ray and me. We recorded a demo version of 'God Only Knows' at Dick James studio, and while we were recording, we heard a Californian drawl say, "I sang on the original version of this". It was Terry Melcher, Bruce Johnston's partner in US duo 'Bruce and Terry' and co-producer of the surf/hotrod group the 'Rip Chords'. I've never actually read confirmation that he was on the Beach Boys record. We made the record at Regent Sound just off Tottenham Ct. Rd. and produced it ourself!




Tony Rivers & the Castaways 1967 'promo' pic. Robert Stigwood Brian Epstein era.There was a gap of 9 months or so, after our seventh single. During this time we were still recording, and of course the group had changed personnel yet again. Ray Brown and me were still hanging in there, and we had recruited 3 guys from the Sugarbeats (a local harmony group in the style of the Castaways). Martin Shaer (vocals), John Perry (gtr/vocals), Geoff Swettenham (drums/vocals) and shortly after, managed to get Pete Swettenham (gtr/vocals) to join his brother in the band. This was a very strong line-up both vocally and instrumentally. Due to management changes, none of the songs we recorded saw the light of day, until recently, (EM Records (Japan) and RPM UK).


Robert Stigwood who we were signed to at that time, gave us a Gibb Bros. song to record, it was 'The Turn Of The Century', and we recorded 5/6 other songs with this line-up, but no releases. John Perry, Geoff and Pete Swettenham later moved on to form Grapefruit for Terry Doran (John Lennon's friend), and soon had a hit, with a song taken straight from the Castaways stage act, 'C'mon Marianne'. A little bit after that, Martin Shaer emigrated to Vancouver B.C. and ended up discovering first, Nik Gilder and then Bryan Adams!!! Things could have turned out quite differently had Brian Epstein, our new manager, not stopped us releasing our version of 'Nowhere Man' (EM Records and RPM), which was scheduled for release, before being withdrawn. It's not that Brian didn't like it, he just thought that it wasn't good for our career to cover a Beatles song! (Would the 'Overlanders' ever have had a 'hit' without Michele? Having just been signed by him, we were in no position to argue. How could you argue with the man who managed the Beatles, the biggest group of all time?


Our final single as Tony Rivers and the Castaways was on Polydor. 'I Can Guarantee You Love' written by Graham Dee and Brian Potter. Tony Harding, Kenny Rowe and Brian Hudson were back and joined I think, by Tom Marshall. This was another good record, but once again got no 'airplay' and disappeared without trace. We did as we were told, but we still couldn't get that elusive first hit. We'd toured all through the 60's playing dance halls, clubs, including many gigs headlining at the Marquee in Wardour St, and even appeared at the Cavern in Liverpool in 1966. We were also playing the University circuit (and for two consecutive years, we were voted the most popular group), which is quite an accolade, when you realise that every major band in the U.K. played the University circuit, from Fleetwood Mac to any band you could name at that time!



continue




Tony Rivers and the Castaways, on the roof at the EMI offices, where many artists had been photographed before!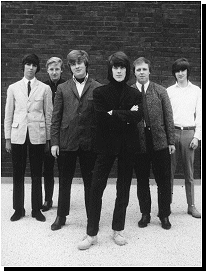 Brian Hudson, Tony Harding,
'Lon' Lyons, Tony Rivers,
Ray Brown and Kenny Rowe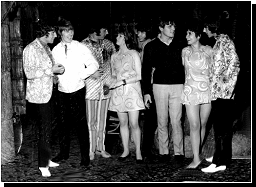 TR with Beach Boy Bruce Johnston and the Tremeloes at Streatham Ice Rink late 60's.



TR and the C's v Brian Poole and the Tremeloes, Regents Park, 1964



1967 promotional picture



'67 Castaways, looking pretty 'moody'.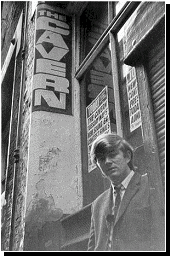 Lon Lyons, outside the 'original'
Cavern Club, Liverpool. 7am!
Waiting for the club to let us in for our debut.