Harmony Grass had already arrived before their first single
'Move In A Little Closer Baby' hit the charts.
They were acknowledged as Britain's leading vocal harmony act and had a string of work lasting for many months.
Although Harmony Grass came into existence at the end of 1968, most people realised that the group, led by Tony Rivers, was a revitalised Tony Rivers and the Castaways.
As the Castaways, the group were in a class of their own, achieving almost every form of success as a group, with the exception of a hit single. They'd even received an award from a National Student body as the most popular British act currently performing in colleges and Universities.
Their manager Colin Johnson, however, realised that a chart hit could only enhance the group's career and thus changed their name.
The gamble paid off. Their hit brought them offers on an International scale and they were frequently off to the Continent where their tight harmonies and exuberant style earned them accolades. They even went as far afield as Canada where they consolidated their success.
Harmony Grass "live" are a joy to watch. If you've never had the pleasure, then this album will give some indication of their talent.. Recorded at four separate sessions, the L.P. spotlights the new talents of Tony Rivers - as a songwriter. "My Little Girl", "What A Groovy Day", "I've Seen To Dream", "Mrs. Richie", "Summer Dreaming",
"I Think Of You", and "Ballad Of Michael" are all Rivers' compositions.
"I Think Of You" spotlights Tony Harding on vocals - and he also arranged the intriguing version of "Tom Dooley."
U.S. songsmiths Capitanelli & O'Connor penned both
"Move In A Little Closer Baby" and "Good Thing" and the remaining numbers "Bird Avenue" and "Chattanooga Choo Choo" are from the boys stage act.
Talent aside, Harmony Grass have earned respect because of their professionalism. This professionalism was forged through hard work and dogged perseverance during their early career.
As for the future? Grass grows. Bill Harry.

This text is from the back of the album, and was written by Bill Harry, a man of some repute from Liverpool and a 'pop music' journalist from the 1960's.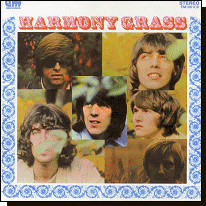 EM Records CD
with the 'original' RCA album design
(pix by Kenny Rowe)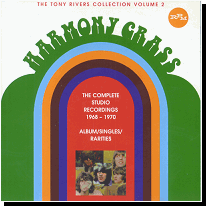 RPM Records CD design

This was the RCA design,
which was rejected by the band.