Sir Cliff Richard
Me, Anthony and Mick Clarke were on backing vocals for the touring version of the 'Oh Boy' show on Cliffs' next tour of the UK. Sometime in the 90's (maybe '92), we recorded a version of 'White Xmas' for Cliff's Xmas album, was it called 'Together With Cliff'?? This was basically the arrangement I'd done when I was in the band, and was the song that ended our ten year time with Cliff, the last song we did on the '85 tour. This wasn't one of our favourite sessions. It wasn't a great atmosphere, and we were kept waiting, then, back in to do a bit more, then "oh we've got a trumpet player coming in a minute, can you come back later?" I made the mistake of getting Mick to sing the high melody, but he was struggling that day, and I think he was a bit overawed having to sing on the same 'mike' as Cliff. The last time I recorded with Cliff was for Mike Read's 'Betjeman' album. We recorded this in the spring of '98, but due to contractual problems, has remained un-released until now. (Due for release August 2000). Anthony and I did all the backing vocals for a mixed bag of singers including, Gene Pitney, Colin Blunstone, Marc Almond and Cliff Richard. We recorded at RG Jones in Wimbledon and this time the sessions were great. Producer John Sweet, made sure there was a great working atmosphere, and we had a laugh too, with Mike's tales of Rigby Hardacre! When Cliff arrived to do his song 'November Night' he was quite surprised to find Anthony and me doing the backing vocals. We were halfway through recording the b/v's when Cliff arrived, so I got him to come in and sing some parts with us, just like 'the old days'. I made sure I gave him a tough part to start with, to make sure he was still up to standard!! He struggled at first, but after a session with Anthony and me at the piano, he eventually picked it up ok! It sounded fine in the end. Some months later, in the summer, Mike Read put on a show, based on the two 'Betjeman' albums he had written, at the Piccadilly Theatre. Simon Spiro (another friend with a great voice) Anthony and I were part of the orchestra backing Cliff, Carl Wayne, Leo Sayer, Colin Blunstone and Dean Sullivan (Jimmy Corkhill from Brookside). A very enjoyable night. Some of my favourite tracks from all the recordings I made with Sir Cliff are, obviously, 'Miss You Nights', but there are plenty of others such as, 'When Two Worlds Drift Apart', 'I Wish You'd Change Your Mind', 'That's Why I love You', 'Donna'. A particular favourite is an unknown song, written by Cliff, on the b-side of 'Hey Mr. Dreammaker', it's called 'No One Waits', recorded at Abbey Rd. Cliff was on his own 'mike' and playing guitar. John Perry and I were also on separate 'mikes' and we stood in a small circle facing each other, sang and played it 'live', the only added voices were an extra track of voices in the middle section. Great 'mike' sound and great a vocal balance. There's a nice story regarding 'Donna', the old Richie Valens 'classic'. It was one of the songs Cliff wanted to do for the 'Silver' ( Rock 'n' Roll) album. He'd recorded it in the 'old days' but wasn't particularly happy with it. I arrived at the studio (Strawberry Studios in Dorking I think), heard the track the band had recorded and immediately started thinking of what backing vocals we'd do, unfortunately Cliff didn't think it needed any !!

I really wanted to be on this track and suggested that we, (John Perry, Stu and me), would come in early the next day, lay some ideas down and see if Cliff liked them. I worked hard at home that night and came up with what you now hear. He loved it! (Whew!). I'd always wanted to write a song that Cliff would record, and it's nearly happened a couple of times, once in about 1977. Bruce was at Abbey Rd. recording the tracks for the Green Light album. I was at home when the phone rang, it was Bruce. He started asking me about the chords of one of my songs 'Getting The Feeling'. I was a bit surprised but very pleased that I'd at last got him to record one of my songs, and I'll say in all modesty, perfect for him at that time. I was very disappointed eventually, because, apparently they couldn't get the backing track right, it was abandoned, and I know that if I'd been there I have been able to put it right. My version is now released on RPM CD Tony Rivers Vol. 3 'Harmony Soul'. I still think it was perfect for him!! Another song I wrote especially for Cliff was due to go on his Xmas album Together With Cliff'. It was an a capella, called 'Xmas Magnificat' (EM Records 'Harmony Works In The Studio' Vol. 1). I'd played the demo to Cliff, and he loved it and said that he would close the album with it. A couple of days before we were due to record it, I was at RG Jones studios and he told me that, because the other tracks had turned out so 'contemporary' that my song now didn't fit the style! One of the tracks on the album was a 'Dickie Valentine' song, 'The Xmas Alphabet'!!!! If that's contemporary......well. It wasn't meant to be.

There's a pretty good selection of our work on the Cliff 70's and 80's EMI CD's released in the last year or so. There are millions of memories I have, of my time with one of the most successful recording artists of all time, these are just a few of them! Looking back, I'm very proud of the work we did for Cliff, both on stage and on certainly on record. I think he has a great recording voice and it's been an education working alongside him in both situations (I think he sang a flat note- - - once)!! It was a wonderful time, and a great privilege to have worked with an undoubted 'Legend' of music, and with some of the best musicians in popular music. I look forward to the next time!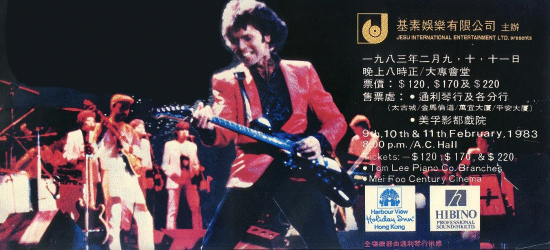 Photographs © copyright Tony Rivers