It was around this time that the Castaways and I played a small but important part, in the discovery of someone who was to become a '60's icon. Sandra Goodrich was an unknown singer from Dagenham. Our manager Terry Oates, had told us of this girl he had found, and wanted us to back her on a show we were to do at the Hammersmith Commodore Theatre. This was a live recording for Radio Luxembourg, sponsored by 'Silvikrin'. On the show was, 'Adam Faith and the Roulettes', 'the Hollies', 'the Swinging Blue Jeans', us and a few others. We rehearsed with her for a day or so, at 'Shirts' house, and realised that she had a pretty good voice. On the show however, she was too nervous to come out to sing when she was announced, and ran and hid somewhere in the theatre, crying. We had to carry on and sing her song ('Everybody Loves A Lover'), in her key! She was found later in 'Adam Faith's' dressing room, having been in discussions with Adam Faith and Eve Taylor, who soon became her manager, with great success. She became Sandie Shaw. Needless to say, Terry Oates who had been her manager was not very impressed! In November of 1964, the Beach Boys made their first trip to England and we were there to meet them. Being EMI artists, some of us went along to the show, for Radio Luxembourg, but featuring only EMI acts. This was being broadcast 'live' (i.e. they played records and interviewed the artists) at a studio in the EMI building in Manchester Sq. in London. I ended up in the Beach Boys dressing room, and found myself singing Mike Loves's bass voice part, on their great acapella, 'A Young Man's Gone' while they were practising!! We gave Carl Wilson a lift to the Hilton Hotel, after the show, in our old van, and then went out for something to eat with him. We knew how to impress! We took him to a little cafe in Tottenham Ct. Rd, near Denmark St. Me, 'Shirt', Carl Wilson and our 'crazy' roadie Frank. Carl paid for the meals with a five pound note and got change! I'm not too sure that we'd ever seen one before! We got on pretty well with the 'Beach Boys', or at least Carl, Al Jardine and Dennis, and their friend, Ron Swallow and they gave us their itinerary for the week. Carl Wilson made sure that we could tag along to any of the recordings, such as the Beat Room (TV Show) and Saturday Club (a radio show, recorded behind closed doors at the BBC Playhouse Theatre) As it happened we were playing two hotels in London that same week. The first was 'Claridges', and Carl Wilson and Al Jardine came along to watch. The next night we played at the 'Savoy', and Dennis Wilson came to watch. While we were waiting for Dennis to arrive at the 'River' entrance, Ava Gardner stopped and said hello. I suppose we must have looked like a group and she was curious! I wish I'd asked about Sinatra! Sadly, in December of 1964, just one month later, we were involved in a fatal road crash in Lanarkshire, Scotland, having driven through the night from Milford Haven in West Wales. We hit a truck that came from about two or three miles from where we lived in the east end of London. Brian 'Shirt' Talbot was driving and was killed. All the band were injured except me, apart from cuts and bruises, and I therefore had the job of phoning everyone at home, including my wife who was seven months pregnant with our son Anthony. Ray Brown had the worst injuries and was in hospital for several months. The 'single' we had on release at the time was 'Life's Too Short', and we were heading for the 'Graveyard Club' in Kirkintilloch. It happened one week before 'Shirts' 21st birthday, and that was the day he was buried. I don't think that we could have continued as a group without the help of 'the Tremeloes' who gave us £300 (a fair amount of money in those days), to get us through, 'til we could get back to working again. I can never go past that area, which I've had to do many times over the years, without reflecting sadly on the events of that day, Dec 5th 1964. In 1966 or thereabouts, (the same day I met Bruce Johnston at the Waldorf) I asked Bruce if he'd like to meet one of 'The Who', Keith Moon? I told him that he was a big Beach Boys fan, Bruce said sure, so I called 'Moonie' and told him to call Bruce. He did, and later that evening the Castaways and me were in the middle of a gig at Romford Technical College, when through the crowd walked Keith Moon and Bruce Johnston. We got them on stage and proceeded to 'murder' some classic Beach Boys songs. I say 'murder', because, Bruce had just joined the Beach Boys, replacing Brian Wilson who was a bass player. Ray handed Bruce his bass, but he didn't really know what to play, or even how! He even said "I'm really a piano player"! We didn't use piano! I remember we had just learned 'The Little Girl I Once Knew' which had a quite involved bass line. Bruce looked terrified, so if you can imagine that, and Keith Moon on drums. Sublety was not his strong point! At the end of every song I'd try to say "Let's hear it for Keith Moon and Bruce Johnston" but Moonie would just say "Whatcha doing next? Oh yeah I know that one. " On we played! Nice as it was to have such 'stars' with us it was great to get back to 'normal'. That's probably the nearest we ever got to playing JAZZ. The Keith Moon biography 'Dear Boy', tells this story, without quite getting the facts right. This is the correct version. 'Dear Boy' also goes on to say that, a day or so after meeting Bruce Johnston, Keith brought John Lennon and Paul McCartney to meet Bruce and to hear the 'new' Beach Boys album, and that they were so 'blown away' by it that, it inspired them to come up with 'SGT. PEPPER'? Can it be that, by introducing Keith Moon to John and Paul, I'd had a 'small' hand in helping the course of 'pop' music. Who knows? I know that John Lennon and Paul McCartney were fans of the Beach Boys, because I sat on the floor talking to John for about 20 minutes at the Nems Enterprises Xmas Party one year, and the main part of the conversation was the Beach Boys, and how great they were. Praise indeed! Also many years later, I met up with Paul McCartney at Air London Studios one morning and he asked if I still had my 'Beach Boys' band? We'd split at least 15 years before that! I was in Robert Stigwoods office in the mid 60's (maybe late '66). He told me he'd got something to play me, and what did I think? He'd just signed them or was about to, and they were on their way from Australia to England, on a boat I think! The Bee Gees! Whatever happened to them? It must have been a year or so later that we did our usual 'supporting role', at a gig at the Saville Theatre, London which at that time was owned by Nems Enterprises, i.e. Brian Epstein. We opened the show, followed by the Flowerpot Men and the Bonzo Dog Doo Dah Band, then the Bee Gees + Orchestra. I read in Q magazine that John Lennon and Paul McCartney were there watching that night!



continue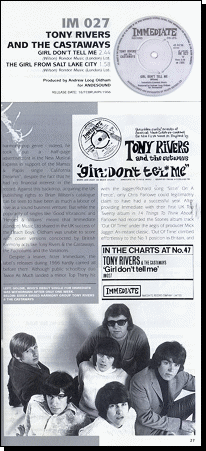 Immediate Records 'singles' Box Set. 2000.



First studio 'photo session' with Vic Larkin's Fender Guitar.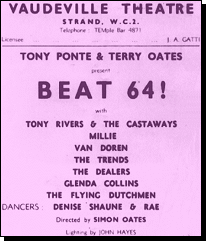 I think we were the first 'beat group' to play in
a 'West End' Theatre, 1964.


Saville Theatre, London, owned by Brian Epstein/ Beatles. John and Paul were both there to see the show.